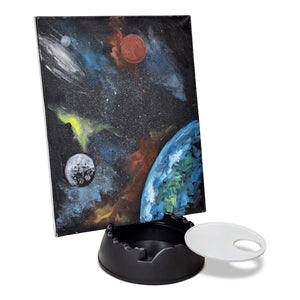 GoEasel
GoEasel: All-in-one Painting Station
Sale price Price $29.99 Regular price $39.99 Unit price / per
"I found I could say things with color and shapes that I couldn't say any other way—things I had no words for." Georgia O'Keeffe
Why Choose GoEasel?
Easy to Store
The GoEasel is portable, lightweight, stackable for easy cleanup, and supports all standard sized tabletop canvases.
Built in Water Basin
The central feature of the GoEasel is a deep water bowl for cleaning your brushes and stabilizing the easel.
14 Paintbrush Holders
There are 10 holes along the rim of the GoEasel for holding brushes vertically. There are slots along the sides for holding up to four long brushes horizontally.
Fits ALL Standard Tabletop Canvases
The GoEasel can securely hold art boards and canvasses up to ¾ inches in thickness. It can also handle canvasses as small as 6 x 6 inches and as large as 16 x 20 inches in size. GoEasel has two canvas bases engineered perfectly for the optimum desired angle to best position the canvas for your comfort.
Palette
The GoEasel also comes with our new and improved design of the traditional palette, which allows all users to enjoy painting hands-free. Our palette is washable and reusable, making cleanup easier and waste free.
Clip
The GoEasel comes equipped with a clip that helps to further stabilize and reduce sway of your stretch canvas. This removes any worry of the canvas moving at the wrong moment.
Size & Dimensions

The GoEasel is 10" in diameter with a 31.42" circumference and only 3" tall making it COMPACT and PORTABLE for your painting needs.

GoEasel does NOT require ANY assembly. It is ALWAYS ready to use because of its COMPACT, all-encompassing design.
GoEasel is engineered to make painting EASIER by REDUCING time-consuming set up and cleanup.
Explore your Inner Artist with GoEasel
"Every child is an artist. The problem is how to remain an artist once we grow up . . ." Pablo Picasso
Unleash your art
What People Say About Us
"I love the GoEasel because I can put it in my bag and take it with me wherever I go. I love the freedom this gives me to stop whenever and wherever inspiration strikes."
"What I like most about the GoEasel is its ability to hold paintbrushes. It comes with holes that hold the smaller brushes vertically and the half circular slots are made so that you can lay your paintbrushes horizontally."